Introduction
If you're a college grad, there must've been a day when you pondered about having your own business. It sounds exciting initially, but the reality is much more different. A creative idea will help you build a strong foundation for a successful business. But several other things should be followed to establish your business. According to a survey, the failure rate of start-ups is less than 90 per cent. Here are a few businesses start up tips.
1. Choose the area of your startup
Choosing your business's concept based on your expertise and interest. A thorough market research is fundamental as it can provide in-depth knowledge about the market trends, opportunities, competitiveness, failure rates etc. Market research will help people a lot. One of the most important factors which people tend to miss when starting a business which highly contributes to the failure of startups. If you want help in deciding the area of your start-up, then try these out.
2. Analysis of the competitors
Analyse the competitors and take their weaknesses and strengths into account. You should know your competitor's strengths and weaknesses, and you should also know your strengths and shortcomings to overcome and maximise your potential.
3. Knowing your target audience
Know your target audience's demands and expectations. Think about the best way to meet your customer's needs. This will tell you if your services are needed and in demand or not.
4. Feasibility of your start up
Determine if you start up is for the long-term or the short-term. Consider overall expenses, including labour cost and investment, infrastructure etc. Analyse carefully if your business startup can survive and meet consumer demands. Evaluate whether you can gain profit more than the principal amount to be spent. If the idea brings more loss, dropping it and changing your plan will help create an impact.
5. Proper management
It is advised to divide the roles and responsibilities of your team members for the proper functioning of the company. Any mismanagement could lead to the failure of the startup. People often overlook this point and believe they can achieve more independently, but it doesn't work like that. The key to any successful organisation is teamwork. Each team member needs to know their role in the company and work accordingly. Teamwork saves time, prevents confusion and facilitates the easy functioning of the company. Analyse the skills of your team members and assign them tasks based on their abilities.
6. Creative marketing strategy
In this competitive world, being creative and holding your target audience's attention will help you grow your business. Brainstorm ideas on attracting customers and making persuasive content different and unique. Making engaging content and keeping up with the trends on social media platforms will make you stand out.
7. Feedback and advice
Take feedback from professionals in your field and gain an understanding from their expertise on obstacles you could face later and how to resolve them.
In conclusion, by following all these business start-up tips, you can grow your business rapidly and start enjoying your own company.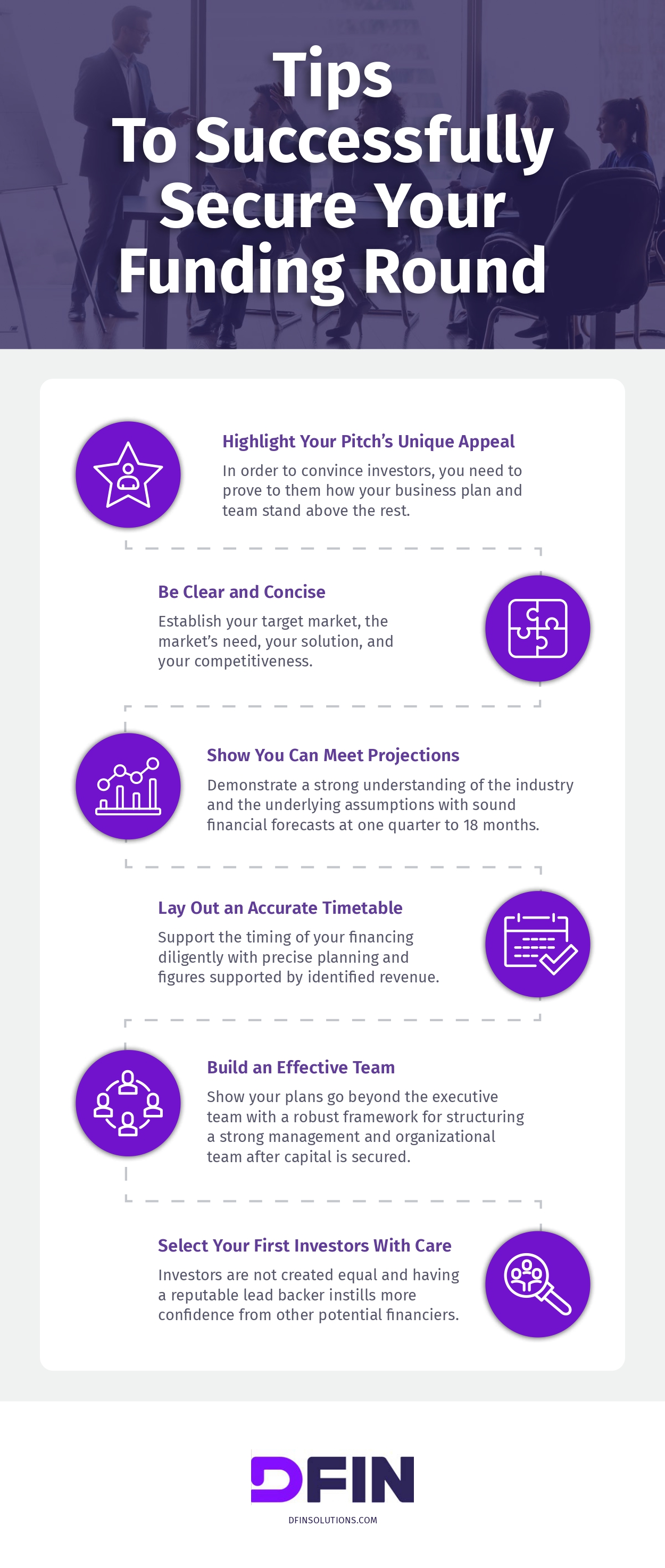 Infographic created by Donnelley Financial Solutions, virtual data room